Teachers Day in India is celebrated on September 5th of every year to celebrate Dr. Sarvapalli Radhakrishnan's birthday commemoration. Students from different schools and colleges around the country are grateful to the teachers who shaped their lives.
This is not limited to children, but all adults take the time to respect their teachers and thank them for bringing them up in life. It is a day dedicated to the memory of the teachers who gave their lives for the transformation of the future generation.
What is the significance of Teacher's Day on September 5?
This special day was in memory of Dr. Sarvapalli Radhakrishnan, a renowned academic in India, who later became the First Vice President and Second Independent India President. Before embarking on politics, he represented Calcutta University in various international forums in the United Kingdom.




After becoming president, his students asked him to celebrate his birthday. He has sometimes pointed out that it is better to celebrate this day as a day for teachers than for him. India celebrated his birthday as Teacher's Day in recognition of her contribution to academics
Beginning of the Teachers' Day Celebration
Dr. Sarvepalli Radhakrishnan was a famous scholar and Indian teacher. In 1962, he became the second president of India. Some of her students showed a keen interest in celebrating her birthday on September 5th and approached her with the same idea.
Radhakrishnan then asked him to celebrate the teacher's day instead of his birthday, which would make him feel honored. Traditionally, September 5th is Teachers' Day, a day to recognize, appreciate, and acknowledge the role teachers play in children's lives.
Importance of Teachers' Day
The importance of the day lies in the fact that educators and teachers provide a wealth of knowledge that they pass on to the emerging generation, which, in turn, builds a better world. Teachers help build an intelligent population based on facts, logic, and reasons, not just emotions. Teachers are honorable on this day so that learners can express their love for them and pay tribute to their contributions.
Celebrating Teacher's Day also helps children understand the importance of education and the critical role an educator plays in promoting effective learning. In this way, learners can appreciate, recognize and respect the mentors, leaders, and teachers of their lives who advise and serve them as effective tools for social metamorphosis.




The day reminds learners to be humble and to express their love and gratitude to the educators, teachers, and gurus who have shown them the way to success. The learner's sense of humility allows him to remain rooted and to be able to monitor, guide, protect and turn to someone at the time of the flood.
Why do we celebrate Teachers' Day?
Teaching is the most influential profession in the world. We know that teachers form the spirit of youth and that without knowledge; no one can exist in this world. The teacher values ​​children and makes them responsible. Almost every country celebrates teachers' day.
In India, we celebrate this day the birthday of  Dr. Sarvepalli Radhakrishnan. He was a man of many qualities and a favorite teacher among the students. It was his request that his birthday is celebrated as a day of honor for all teachers in the country if anyone ever wanted to celebrate his birthday. In short, we celebrate Teacher's Day because teachers were the architects of society and without them, no society can follow the path of progress.
In his book "Political Thinkers of Modern India", he stressed the importance of teachers and education in a country like Democratic India, which was still in its infancy. According to him, teachers have an important role to play in the building of nations and for this reason, teachers should be more respected. He was not only a thinker and a teacher but also a philosopher.
By the time he entered politics, most leaders of that era, such as Jawaharlal Nehru, Mahatma Gandhi or Dr. Rajendra Prasad his fans for this thought in the building of nations. His skills have also been demonstrated in politics. He had the political acumen to recognize obstacles at an early stage, and he had the courage to reprimand party leaders for their tardiness and crime. Already in 1947, he had warned former members of Congress against the alarming consequences of nepotism and corruption. We are dealing with this now!
Of course, such a man needs to be ovation. To promote the values ​​and principles of a true teacher, this day is celebrated.
How is Teacher's Day celebrated in India?
The preparations for this day begin at least fourteen days in advance. Usually, the celebration takes place in the amphitheater or auditorium of the school or college.
The pupils organize a small prayer service followed by the lighting of the lamp by a teacher or a director. Special cultural programs, including dances and skits, are organized by students in each class. Some schools also award prizes to their teachers. Teachers are invited to participate in various games and the children sing songs and hymns.
The student council gives a speech highlighting the contributions and efforts of a teacher. He thanks his teachers for the patient ears and encourages them to love and unconditional love.



In some schools, Grades 11 and 12 disguise themselves as teachers and assume the role of teachers in leading classrooms. And sometimes even teachers sit in class as students and are taught by their students.
All social media platforms are flooded with greetings and greetings from teachers. Some students offer cards in hand and hand them to their teachers, while others present bouquets.
In some schools and colleges, alumni organize a meeting to meet their teachers, greet them and make them feel valued and appreciated. They offer gifts to their teachers as a sign of love, respect, and gratitude.
What can we do on Teacher's Day?
In our busy schedules, we forgot to express our gratitude. Numerous studies have shown the benefits that gratitude can have for those who express it and those who receive it. We can think of it as a day to thank our teachers and express our love and concern. Our teachers may have had a difficult time coming to school, teaching us and helping us through difficult times. It's the day to show them that we are with them.
We can help them in their work by using the skills we have acquired over the years.
We could visit them that day and talk to them about our experiences. This will certainly make her happy and proud of her efforts.
We could ask for their blessing and let them know that we are there for them when they need us.
We could present a small sign of appreciation, something they could keep as a reminder, such as a pen or an agenda, which would also be useful to them.
We could organize a fun day of memorable activities and entertainment.
We could give them books and other materials together and arrange a meeting, especially if the class is graduating.
The time spent with them and the gratitude expressed would be a great gesture to make teachers proud. It is important to recognize their contribution to the formation of our personality.
The role of Teachers in our lives
All those who have participated in an apprenticeship or training process or who have gone through the education system are aware of the importance of teachers and gurus. Teachers are like flashes that spread knowledge and educate people, guiding students' innate intelligence toward something truly fulfilling and rewarding.
Mentors and teachers not only play a crucial role in the communication of knowledge, but they also help to promote compassion, empathy, and perceptions of learners. It is they who help students develop intellectually and progress logically in life.
Conclusion
The hard work and efforts of teachers to train the future of the country should always be appreciated and welcomed. And as they say, "It takes a big heart to make little heads". Celebrating Teacher's Day is just a way of thanking and showing love to those who have been involved in learning and to the development of their students and who contributed to its creation.
Happy Teachers Day Quotes 
Teacher's Day:- Teacher – anciently called Guru in India, is the one who was given priority more than God, by God itself as a guru/teacher is the one who makes the life of every single person. Even the God themselves has a Guru, the Brihaspati. According to Hindu mythology, parents are given the topmost place as they are the first teacher of a child who teaches him/her and gives him the learnings. A child's own home is called primary school. And next comes the Teacher/Guru who is the one which leads a child throughout life. Celebrate this Teachers Day 2020 by sending inspiring Teachers Day Quotes and sayings to your favorite teacher from below.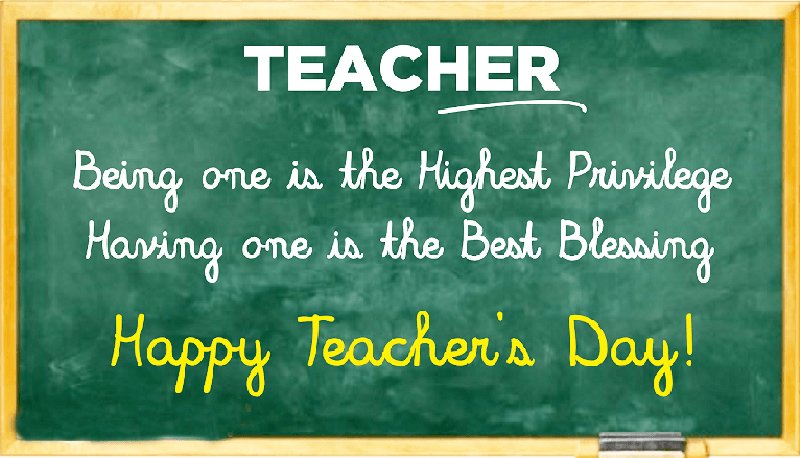 Let us remember: One book, one pen, one child, and one teacher can change the world. Malala Yousafzai
"The mediocre teacher tells. The good teacher explains. The superior teacher demonstrates. The great teacher inspires." ― William Arthur Ward
A good teacher can inspire hope, ignite the imagination, and instill a love of learning. Brad Henry Read
"The children now love luxury. They have bad manners, contempt for authority; they show disrespect for elders and love chatter in place of exercise." ― Socrates
Teaching is a very noble profession that shapes the character, caliber, and future of an individual. If people remember me as a good teacher, that will be the biggest honor for me. A. P. J. Abdul Kalam
"Because teachers, no matter how kind, no matter how friendly, are sadistic and evil to the core." ― Heather Brewer
Education is the key to success in life, and teachers make a lasting impact in the lives of their students. Solomon Ortiz
Teachers Day Quotes 2020
"They inspire you, they entertain you, and you end up learning a ton even when you don't know it" ― Nicholas Sparks
Success is a lousy teacher. It seduces smart people into thinking they can't lose. Bill Gates
"When you study great teachers… you will learn much more from their caring and hard work than from their style." ― William Glasser
Technology is just a tool. In terms of getting the kids working together and motivating them, the teacher is the most important. Bill Gates
"The real heroes are the librarians and teachers who at no small risk to themselves refuse to lie down and play dead for censors." ― Bruce Coville
The mediocre teacher tells. The good teacher explains. The superior teacher demonstrates. The great teacher inspires. William Arthur Ward
"A teacher who loves learning earns the right and the ability to help others learn." ― Ruth Beechick
My father was my teacher. But most importantly he was a great dad. Beau Bridges
Read More