Ambedkar Jayanti:- Ambedkar Jayanti 2023 will be celebrated by people all over India on the 14th of April at, Friday. This day celebrates the birthday of Baba Saheb Bhimrao Ambedkar, an Indian politician, and social rights activist.
Ambedkar Jayanti / Birth Anniversary of Dr. Bhimrao Ambedkar
The people of India celebrate Ambedkar Jayanti every year on the 14th of April as a festival to honor Dr. Bhimrao Ramji Ambedkar's birthday and his contributions to the people of India.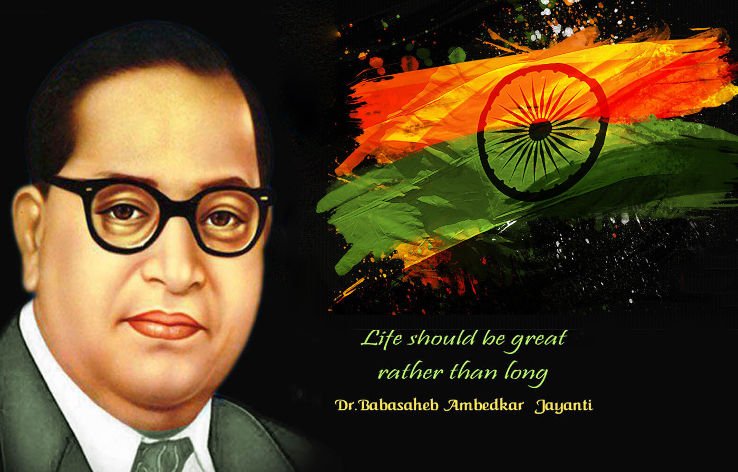 It would be a 132nd birthday anniversary celebration in the year 2023 to commemorate his memories. It was a big moment for the people of India when he was born in the year 1891.



Indian people worship him like a God by keeping his statue in their homes. On this day people make a parade by keeping his statue in front, they also enjoy dancing using dhol.
Why do people celebrate Ambedkar Jayanti?
Ambedkar Jayanti is celebrated by the people of India very happily to remember his immense contributions to the poor people of India. Dr. Bhimrao Ambedkar is the father of the Indian Constitution who had drafted the Constitution of India.
An Indian human rights activist who was born on April 14th in 1891, he founded the "Bahishkrit Hitkarini Sabha" in 1923 to spread education and improve the economic conditions of the lower classes.

He runs a social movement for people using the slogan "Educate-Agitate-Organize" aiming to eradicate casteism in India as well as rebuild Indian Society by following the rule of equality of human beings.
A march was also led by him in 1927 at Mahad, Maharashtra for establishing equal rights for untouchable people whose water was not allowed to be touched or tasted.
In 1930, he led the temple entry movement at Kalaram Temple in Nashik, Maharashtra, for real human rights and political justice. Indian history remembers his anti-caste and anti-priest movements.
As a major contribution to Indian Constitutional law, he protected the Fundamental Rights (social freedom, equality, and eradication of untouchability) as well as the Directive Principles (enhancing living standards by securing equitable distribution of wealth) of State Policy.
Through Buddhism, he continued his social revolution until the end of his life. His contributions to Indian society have led him to be awarded the Bharat Ratna in April 1990.
How to Celebrate Ambedkar Jayanti?
In Varanasi, Dr. Ambedkar Jayanti Samaroh Samiti organizes an event that celebrates Dr. Ambedkar's birthday anniversary in the Kutchehri area of the city.
They organize a variety of events like painting, general knowledge quiz competitions, debate, dance, essay writing, symposium, sports competition, and drama in which many people participate including students from nearby schools. In order to celebrate this occasion, a big seminar is organized yearly by the Bhartiya Journalists Welfare Association, Lucknow.
The festival runs from the 15th to the 17th of April at the Baba Mahashamshan Nath temple at Manikarnika ghat Varanasi.
Students from junior high school and primary schools make a Prabhat Pheri in the morning and secondary school students take part in the rally on this day. Poor people are also offered free health check-ups and medicines at many places through free health check-up camps.
A contribution of Dr. B. R. Ambedkar
He played a great role in establishing the Reserve Bank of India as he was a professional economist. He became successful in forming the Reserve Bank of India in 1934 after giving his ideas to the Hilton Young Commission through his three successful scholarly books on economics such as "Administration and Finance of the East India Company, The Evolution of Provincial Finance in British India, and The Problem of the Rupee: Its Origin and Its Solution".

He also played a role in planning the Indian economy as he got his Economics doctorate degree from abroad. He encouraged people to the growth and development of industrialization and agricultural industry to enhance the economy of a country. He had given ideas to the government for accomplishing the food security goal. He encouraged people for good education, hygiene, and community health as their basic requirements. He established the Finance Commission of India.

Article 370 of the Indian Constitution provided a special status for Jammu and Kashmir, which he opposed.

He worked to eliminate the social belief of untouchability for the lower group of people. . He also protected the Dalit rights by organizing various programs like "Mook Nayak, Bahishkrit Bharat, and Equality Janta".

During the 1930s, he organized public marches and demonstrations against untouchability and for removing untouchability from water resources. He has demanded a separate electorate through the Poona Pact to reserve seats for untouchable people of the depressed class

.
Facts of  Ambedkar Jayanti
Early Life
He struggled throughout his life for the campaign of eradicating casteism and social discrimination in India. As a result of his conversion to Buddhism, he was addressed by Indian Buddhists as a Bodhisattva.
He faced social discrimination from his childhood when he joined the government school. He and his other colleagues were isolated from other high-group students and paid little attention to the teachers.
Even, they were not permitted to sit in class and touch the water. They were provided water by a person of a higher caste from a distance.
Education
In his early life, his surname was Ambavadekar, got from his village "Ambavade" in Ratnagiri District, which was later changed to Ambedkar by his Brahmin teacher, Mahadev Ambedkar. He joined the Elphinstone High School, Bombay as the only untouchable in 1897.
 After passing his matriculation examination in 1907 he successfully succeeded in other exams.
He completed his M.A. exam in 1915 and a Ph.D. degree in Economics in 1917. He again completed his Master's degree from the London School of Economics in 1921 and his D.Sc. in Economics in 1923.

As per the media:
There is news that the Maharashtra government will buy a big bungalow in London worth Rs. 35 to 40 crore in order to make it an international memorial of Dr. B. R. Ambedkar. According to reports, the house (located at 10, King Henry Road, NW3) where Dr. B. R. Ambedkar once stayed while pursuing higher studies in London is being auctioned by its owner.
About Dr. Bhimrao Ramji Ambedkar
Dr. Bhimrao Ramji Ambedkar was born on the 14th of April in the year 1891 to the Ramji Maloji Sakpal and Bhimabai in a poor Mahar family in Mhow, Central Provinces, British India (Madhya Pradesh). He died on the 6th of December in 1956 at the age of 65 in Delhi, India.
He served in India throughout his life as a jurist, philosopher, social activist, politician, historian, anthropologist, and economist as well as a revivalist for Buddhism in India to bring the Modern Buddhist movement. 

You May Also See:-