National Integration Day:- will be celebrated on Sunday, the 19th of November. National integration indicates the feeling of a common identity amongst the people of the country even after being from different races, cultures, religions, or regions in order to build a strong and developed nation. It promotes the unity of diversity and the feeling of oneness amongst people to a great level.
There is a kind of racial and cultural similarity between different communities because of it. There are a variety of religions in this country, including Hinduism, Buddhism, Christianity, Jainism, Islam, Sikhism, and Zoroastrianism, along with many different cultures, food habits, traditions, costumes, and social customs.




It is a diverse country having great differences in climate. However, many bad forces come in the way of national integration which creates the feeling of conflict among people of different sects and results in the damage of unity and barrier to progress. Socialism is one of the great barriers that come to unity and progress.
National Integration Day 
The best example of it was the separation of Pakistan in 1947 during Indian independence which finished the lives of many people and their homes.
Now, it is very sad to say that even after being an independent country, the communal feelings have not gone from the mind of Indian people which is a big reason why we celebrate National Integration Day annually to try a single bit of effort to finish away from the communalism from India. This is the reason why we have still counted as a developing country and not a developed country even after more than fifty years of independence.




Linguistic differences and casteism are also the main points creating a threat to Indian unity. People from one religion and caste support the same whereas opposing the others which hinders their progress and development to a great extent. Great examples of these are job appointments, political elections, and admissions to educational institutions that have involved caste considerations. Even people avoid interacting with people of other castes.
National Integration Day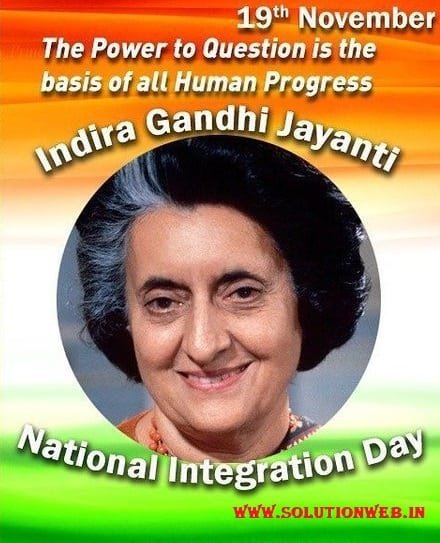 Indira Gandhi, the first woman prime minister of India, celebrates National Integration Day on the 19th of November every year. The office members of the different departments of the district administration get together in one place to take a pledge to ensure common harmony in society. After getting independence from the country, the people living in India are not independent, they are still slaves somehow. Some of the politically motivated youths of the country are continuously disrupting the unity and communal harmony of the people in society. In addition to celebrating, Quami Ekta Divas commemorates the birthday of India's first woman prime minister.




What is the National Integration Council?
The National Integration Council of India is an assembly of senior politicians and public figures and was established to fulfill the need of addressing problems like casteism, communalism, and regionalism in India. It was first established in the conference organized by the first Prime Minister of India, Jawaharlal Nehru, in 1961 aiming to fight problems dividing the unity as well as hindering the progress of a country.
AIMS OF NATIONAL INTEGRATION DAY
It is celebrated every year to encourage people about unity, peace, love, and brotherhood among them.
To promote harmony among Indian people instead of being diverse in Indian society in terms of culture, multiple languages, religions, geographical diversity and etc.
To develop a better understanding among youths of diverse perceptions, faiths, and lifestyles to strengthen the unity of people in society.
HOW IT IS CELEBRATED
It is celebrated every year in India by conducting a variety of programs and activities like the Inter-State Youth Exchange Programme (ISYEP), National Integration Camp (NIC), National Youth Festival, National Youth Award and etc. Symposiums, seminars, and cultural activities are organized to deal with issues related to national integration. Research activities and publications are held in the camp. A variety of community services are done by youths of different social backgrounds, regions, faiths, and religions.




About Indira Gandhi
Indira Gandhi, the first woman prime minister of India, was born on the 19th of November in the year 1917 in Allahabad. She was the daughter of the first Indian prime minister Pandit Jawaharlal Nehru. She got her higher education from the Vishwa Bharati University and Oxford.
As Minister of Information under Lal Bahadur Shastri, she also became a Cabinet member.
It was she who handled the 1971 war with Pakistan and won it. She fought hard to achieve the declared objectives of the Indian economy and for democratic socialism. The signing of the Shimla Pact with Pakistani Premier Z.A. Under her leadership the first nuclear tests at Pokhran took place.



She was very interested in music, literature, and fine arts. Bharat Ratna, the great Indian award, was awarded to her in 1971. She has proved to be one of the most fascinating leaders of modern India who has influenced world affairs and the Non-Alignment Movement. In 1984, she was killed by a bullet assassin at her home on 31st October.
Read More