Top MBA Colleges in Delhi
---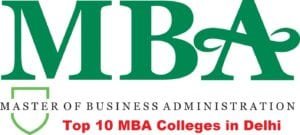 Top 10 MBA colleges in Delhi provide you the best MBA education. If one wants to pursue their career and wish to do MBA in Top MBA College, then Delhi would be the answer. Doing MBA among the list of Top 10 MBA colleges in Delhi provides you the best learning and high placement opportunity.




There are many prominent MBA/PGDM colleges in Delhi are also known as Business schools, B-schools, School of Management or Management Colleges. Here in this, you can explore a complete overview of Top MBA colleges in Delhi, MBA courses offered by Top colleges, Admission opportunity, Fee structure and placement facilities, so you can browse through our list of Top 10 MBA colleges in Delhi which has occupied a prominent place on the national map of management education.
MBA colleges in Delhi have developed themselves as a standard in the management education. Top colleges of Delhi provide world class faculties and learning methodologies. Here we can explore some of the Top 10 MBA colleges in Delhi with Rank Wise:
Department of Management Studies, Indian Institute of Technology, Delhi
Faculty of Management Studies, Delhi
Management Development Institute, Gurgaon
Indian Institute of Foreign Trade, Delhi
MBA colleges in Delhi are the pioneer in offering management education of its own way. It understands the value of managerial skills which are required in the business world. The fee structure of Top MBA colleges in Delhi is affordable as well as the quality of education is also intense. Let us look at the Top 10 MBA Colleges in Delhi with Fee structure.
DMS, IIT, Delhi Fee structure: around Rs 4 Lakhs
Faculty of Management Studies, Delhi Fee structure: Rs 20,980
Management Development Institute, Gurgaon Fee structure: approx Rs 15.96 lakhs
Indian Institute of Foreign Trade, Delhi Fee structure: Rs 15.7 Lakhs
---
List of Top 10 MBA Colleges in Delhi
---

Bharati Vidyapeeth Institute of Management and Research, Delhi is the prominent institute providing quality and value-based management education. The management institute has carved its motto with …
| | |
| --- | --- |
| >> Master of Business Administration | Fees: Rs. 807600 |
---
Jagannath International Management School, Delhi

JIMS New Delhi, Kalkaji campus, is a prestigious B- School of North India, located in the heart of South Delhi. From a very modest start, JIMS College has now acquired a Top position as one of the …
AURA Institutions, Delhi

 shortly known as (AURAI) situated in Delhi was bought up in 1989. AURA is one of the foremost institutions in Delhi that fascinates exceptional students all over the coun…
| | |
| --- | --- |
| >> Master of Business Administration | Fees: Rs. 3000 |
Cosmic Business School, Delhi
Cosmic Business School was established in 2004 and located in New Delhi which is a center of superiority in management. This institute imparts AC Campus sideways with a well-arranged library with mo…
| | |
| --- | --- |
| >> Master of Business Administration | Fees: Rs. 420000 |
Tecnia Institute of Advanced Studies, Delhi
Tecnia Institute of Advanced Studies which is shortly known as TIAS, located in New Delhi was set up in the year 1998. This institute is one of the leading institutes launched under the sponsorship…
| | |
| --- | --- |
| >> Master of Business Administration | Fees: Rs. 213400 |
---
Management Education and Research Institute, Delhi

Management Education & Research Institute which is shortly known as (MERI) which is located in New Delhi was set up in the year 1994. This institute mainly has the goals to create a learning en…
| | |
| --- | --- |
| >> Master of Business Administration | Fees: Rs. 78000 |
Modi Academic International Institute – Stratford University (USA), Delhi
MAII which is located in Delhi is a joint venture between Stratford University, USA and the K.K. Modi Group. This institute prepares the…
>> Master of Business Administration
---
Millenium School of Business, Delhi

Millenium School of Business which is shortly known as (MSOB) which is set up in the year 2010 is endorsed by Educomp Raffles Higher Education Ltd which is a joint scheme between Educomp Solutions …
| | |
| --- | --- |
| >> Master of Business Administration | Fees: Rs. 525000 |
International Institute of Business Management, Delhi
International Institute of Business Management which is shortly known as (IIBM) which is located in Delhi was established with the idea to train right industrialists and business leaders who can mo…
| | |
| --- | --- |
| >> Master of Business Administration | Fees: Rs. 440000 |
Institute of Integrated Marketing Communication & Management, Delhi
Institute of Integrated Marketing Communication and Management which is shortly known as (IIMCM) located in Delhi were set up by RQ Foundation with an intention to convey the highest standard for excel…
| | |
| --- | --- |
| >> Master of Business Administration | Fees: Rs. 120000 |
Harikishan Institute of Management Technology, Delhi

Hari Kishan Institute of Management Studies which is shortly known as (HIMS) situated in New Delhi was set up in the year 2005 as a compliment to Late Shri Harikishan Goel as an epicenter for instruction…
>> Master of Business Administration
Bhai Parmanand Institute of Business Studies, Delhi

Bhai Parmanand Institute of Business Studies which is shortly known as (BPIBS), which is located in Delhi was set up in the year 1986, which is a technical Institute endorsed by Government of Delhi…
| | |
| --- | --- |
| >> Master of Business Administration | Fees: Rs. 40000 |
---
Bharatiya Vidya Bhavan Usha and Lakshmi Mittal Institute of Management, Delhi
Bharatiya Vidya Bhavan Usha and Lakshmi Mittal Institute of Management was established in 1967, it is located in Delhi. It is constituent of Bharatiya Vidya Bhavan offering management education pra…
Asia Pacific Institute of Management Delhi, Delhi

Asia Pacific Institute of Management Delhi (APIM) was established in 1996, it is located in New Delhi. The courses are approved by All India Council for Technical Education (AICTE) and it is received…
Jindal Global Business School, Delhi
Jindal Global Business School which is shortly known as (JGBS) provides a multidisciplinary global business education to substitute theoretical excellence finished industry corporations and global …
| | |
| --- | --- |
| >> Master of Business Administration | Fees: Rs. 1400000 |
Bangalore School of Business New Delhi, Delhi

Bangalore School of Business which is shortly known as (BSB) which is located in Delhi was set up in 2007. At present this school has 4 precincts, of which BSB Kolkata was bought up in 2009, and th…
| | |
| --- | --- |
| >> Master of Business Administration | Fees: Rs. 156000 |
Adianta School for Leadership and Innovation, Delhi
Adianta School for Leadership & Innovation was set up in the year 2011, is originated on the three pillars of its prospectus Revolutionize Building. Here all courses are trained through its sing…
| | |
| --- | --- |
| >> Master of Business Administration | Fees: Rs. 350000 |
Department of Management Studies, IITD, Delhi
Department of Management Studies, Indian Institute of Technology which is located in Delhi was bought up in the year 1963. IIT Delhi had established an interior committee to inspect the operation o…
| | |
| --- | --- |
| >> Master of Business Administration | Fees: Rs. 400000 |
---
Kcc Institute of Management, Delhi

Kcc Institute of Management was bought up in the year 1951, this institute is very classy and well-manicured lawns 40 acres land flattering the blue sky. Good maintenance has been taken through th…
>> Master of Business Administration
---
Department of Financial Studies, University of Delhi, Delhi

Department of Financial Studies which is shortly known as (DFS) was set up in the year1987, known an institute of knowledge for students who seek to advance their administrative effectiveness in th…
| | |
| --- | --- |
| >> Master of Business Administration | Fees: Rs. 26000 |
---
Skyline Education Group, Delhi

Skyline Education Group was bought up in the year 1996 in India and in the year 2002 was chosen as a Branch Campus of MAHE that is in Manipal, Skyline management institute now provides MBA & BB…
| | |
| --- | --- |
| >> Master of Business Administration | Fees: Rs. 480000 |
---