Swami Vivekananda Jayanti Essay:- 'Swami Vivekananda Jayanti' is celebrated on the Paush Krishna Paksha Saptami, the 7th day after the full moon day. It is the birthday of Swami Vivekananda.
According to the Hindu traditional calendar, Swami Vivekananda's birthday falls on the Paush Krishna Paksha Saptami, the 7th day after the full moon day.
According to the English calendar, Swami Vivekananda was born on January 12, 1863, in Calcutta.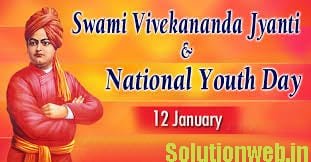 Swami Vivekananda was born on 12 January 1863 in Calcutta. His original name was Narendra Nath Datta. His father, Vishwanath Datta, was an attorney at the Calcutta High Court.
Mother, Bhuvaneswari Devi, was a devout housewife. The teachings of Swami Vivekanand are the biggest philosophical asset of the country. Swami Vivekananda was a Hindu monk and a patriotic saint of India.
He has given his valuable thoughts on several topics. Swami Vivekanand was a modern Hindu saint and follower of the Vedanta philosophy of Hinduism.
He was a disciple of Ramakrishna. He founded Belur Math, Ramakrishna Math, and Ramakrishna Mission.



The Indian government has decided to observe Swami Vivekananda's Gregorian date of birth as 'National Youth Day'.
The motto of declaring youth day on the birth date of this philosophical guru was motivating and inculcating these pious ideals to the coming generations. On this day people remember and honour Swami Vivekanand.
This Day is observed with great devotion towards Swami Vivekananda. At the headquarters of Ramakrishna Math and Ramakrishna Mission as well as their branch centres.
At various places, mangal arati, home, meditation, devotional songs.