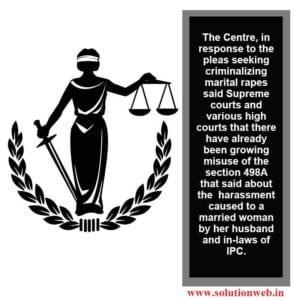 The most heinous crime rape done with women is marital rape. It destroys the victim not only physically but mentally. It affects the soul along with the body as well; Due to sexual pleasure of a woman's body without her pleasure, or constantly doing these abusive acts is not only a personal dignity but also a violation of the dignity of the whole society. It makes the thinking of someone rebellious for one's sake that your body will be forced to use someone's sexual pleasure.
We hold strict rules to save women from the crime of rape and provide serious punishment for the culprit. But the rate of such crimes is very high and in reality, this is our society on the uplift.
In addition to ordinary rape, marital rape or forcible sexual intercourse with one's wife by a man is also the bitter truth of our society. Although the general consciousness of society considers marital rape to be morally and in accordance with the policy, it does not consider it as a serious crime; And in fact, in a direct or indirect form, it has got social acceptance in the name of matrimonial compulsion. The worst part is that the laws of the country have also failed to recognize marital rape as a crime, and in a sense, it provides legal sanction.



What is Marital Rape
If rape is an offspring, then marital rape is one of its species. It is done by force of sexual intercourse against a man's wife's wishes with his own wife, either by forcefully or by threatening or physical harm.
Essential facts of marital rape, between husband and wife, between man and woman; This makes the issue more socially relevant. Like rape, there is no consensus of the woman in marital rape and sexual intercourse is done by a man using force.
Although, the entire society considers rape to be a serious crime, and the law provides great importance in punishing rapists, but the law of rape does not provide any protection to married women if the woman's husband is forced or compelled to intercourse. The entire society does not consider marital rape an issue of importance and provides full freedom to her husband.
Married women suffering from this kind of sexual violence by their own husbands do not have any place to go anywhere, because of the pressure of society they can not even complain about their family, as well as they can not go to the police as well Marital rape is not considered as a crime. Thus, the sufferer has to endure all the pain quietly and there is no remedy for this.
Due to Marital Rape
There can be many reasons for marital rape, such as the sexual deformity of the husband, the desire of men to show their superiority over women, miserable domestic issues, the right demands of women by their marriage relations, etc.


Thus, in short, the main reason for this marital evil is gender inequality spread in our society. This is the second aspect of our patriarchal and male system where both married and unmarried women do not have equal rights. There is another weapon in the hands of the man to take advantage of these women and subdue women.
Apart from this, one of the other reasons is also the traditional roles assigned to married women in our society. This role is defined by the society in this way for married women, ie, the pure-loyal and obedient women. Thus, a married woman is considered to follow her husband's instructions completely and fulfill all his demands without any questions raised. Therefore, the concept of "good wife" is not good for women, but only good for men. Sex is considered to be the most important part of the woman for her husband and she can not refuse her for this. His role is only to present himself and surrender.
Economic dependence on her husband and in-laws is one of the reasons for many reasons that married women are unable to save themselves from repeated marital rape and are forced to bear the violence.
Another reason, in legal provisions, marital rape is lacking in identity as a crime; Who obliges men to continue their behavior and leave the wife without cause.
Marital Rape and Law
The biggest disappointment in dealing with the marital rape is that crime in India is not in sight of its law. Neither of the Indian Law Penal Code, 1860 nor the Domestic Violence Act, 2005, does not recognize any special statutory law as an offense to it.



Although marital rape is one of the most embarrassing and humiliating experiences for a woman, it has not been added beforehand by amending legal acts in existence or as a special law to provide protection to married women in our legislature.
Indian Penal Code and Marital Rape
IPC Section 375 defines rape. It lists the activities that are considered as a rape of any criminal activity. It also provides those conditions which are defined by keeping the activities under rape.
In one of the provisions (Section 6 of 375), it has been made that it is rape to intercourse with a man under 18 years of age, without a consensus or disagreement. But, in this part, there is also the provision that (attached with Section 375 as an exception), if the husband is not having intercourse with his wife and if the wife is not less than 15 years then it is not considered rape is. Thus, if a girl is married and her husband is forced to intercourse with her then this rape will not happen even if she is not less than 18 years old, she should not be under 15 years of age.
Here is the law of critical and double standards, for a married girl whose age is more than 15, there is no way against her husband's sexually transmitted behavior. These provisions tell great injustices against married women because they help distorted husbands to keep their wrong actions. And they do not provide any remedies to wives if they are more than 15 years old.
Apart from this, rape is not considered to be sexual intercourse on the case of the wife being below 15 years, because the law considers it to be a marriage rape, but is considered because the case is linked to the age of the wife.



Thus, the IPC Marriage does not recognize rape in any way. Even in the most prevalent criminal law amendment, the Criminal Law Amendment Act, 2013, there is no provision made in respect to marital rape.
Apart from that, Section 376-B provides that there is a punishable offense punishable with imprisonment for more than two years and financial penalties for a sexual intercourse with his wife during a judicial separation by a man. But here too, these provisions do not consider the crime described as rape. And in this case, the married couple can live separately under the decree of judicial separation. Thus, here too, marital rape has not been defined.
Perhaps if we adopt a broader ideology, in a form of cruelty on marital rape, it can be considered in Section 498-A, because cruelty points to any kind of physical and mental harm of any kind. If it is said in the form of criticism, it is far from the provision and it is taken in the form of cruelty and not as a marital rape.
Conclusion
The law believes that in marriage, the wife is consenting to fulfill all types of marital obligations, including sexual relations with her husband, which she can not take back later. Such old rules still exist and the main obstacle in the way of identifying marriage rape as a crime.
It is almost impossible to stop the deformation of the marital rape without bringing any special legal provision. The victims of this moral crime cannot go anywhere. Perhaps the last resort is just a judiciary. Our country's judiciary has the definite functioning independence which it can recognize worthy of the stringent rape as a serious moral and policy crime. And in some cases the judiciary is making judgments through judicial creativity; for example:



Additional Sessions Judge Dr. Kamini Lau, in one of the recent cases, has been seen: 'There is a nation determined on the grounds of non-recognition of marital rape, on the basis of equality, there is total double standard and pretense in the law, which is the principle and authority of women. "We need to recognize the rights of women to prevent marital sex rape as a major component of equality in India. "And emphasizing that," Women have complete authority over their bodies, identifying marital rape and taking abusive sexual acts and raising voice against them, this is the first important step towards achieving adequate equality between man and woman. "Marital rape is abusive for ethics and freedom and needs to be exposed, addressed and punished by any sexual adversity."
But in the absence of special provisions of the law, the judiciary is bound by itself and with its own personal view, forcefully force a man to commit sexual intercourse with his wife as a marital rape.
That is why it is necessary that the legislature of our country and the Law Commission of India awoke to the new and changed reality of the present time and for the untimely married women who are suffering in silence in the hope of getting help without any help in their homes. Provide necessary legal protection. Apart from this, in general, in society and especially in every household, men should start condemning this behavior of men by rejecting such behavior against their wives, in such a way, the offender has any kind of sanction for her criminal act. Could not be found
Along with the law, such a positive work of society will give a sense of security to married women and they will provide a grievance redressal mechanism in case of marital rape.



If the women of our country do not have any right over their bodies and even when there is a question of sexual intercourse in marriage, they will have no choice but to keep their choice, the concept of right to the right inherent in the constitution of our country will remain in the form of a dead letter.