Know Your EPF Balance  Check EPF Balance Online
This facility of Know Your EPF Balance  Check EPF Balance Online is meant for EPF Members to know the balance in your EPF Account up to the date, the accounts are updated, which also includes the latest approved transactions of settlement/advances/transfer-in/transfer-out if any, offices across India. The only pre-requisite is you must know your PF Account Number.
Help:-
First, you will see a page having title Member Balance Information from where you have to Select PF Office State as DELHI.
Just after select Delhi as the state, you will see three offices namely Delhi North, Delhi South, and Laxmi Nagar.
If you know your EPF Office select the same from the list.
On selection of office, the mandatory Region Code and Office Code will get populated automatically in the respective boxes.
Enter the Establishment Code in the third box – which can be of a maximum of 7 digits.
In case the Establishment Code has an extension / sub-code, enter the same in the fourth box. It can be a digit or letter as the case may be and can be of a maximum of 3 characters in size. Leave this field blank, if there is no extension /sub-code to the Establishment Code.
Enter your account number in the fifth box which can be of maximum 7 digits.
You will be asked to enter your name and mobile number. The given mobile number will be recorded along with the PF Account Number.
Then Agree for the services.
Then submit the result.
On successful submission of the above information, the details will be sent through SMS to the given mobile number.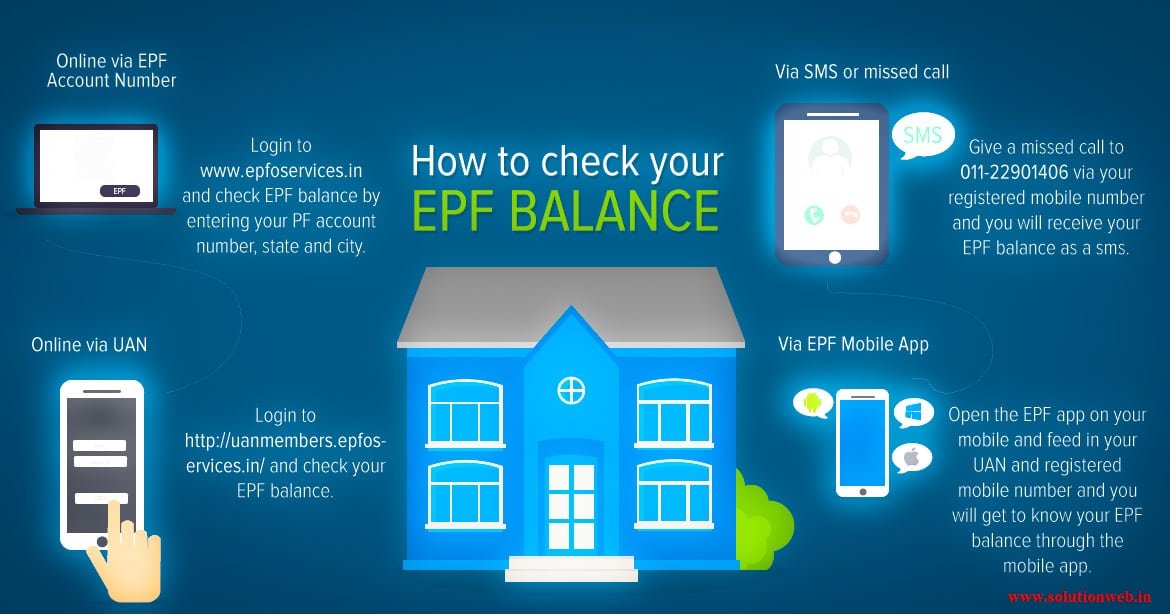 EPF balance is the amount that is there in your EPF Account. EPF balance consists of an amount deducted every month from your salary plus the amount that is contributed to your EPF account by your employer. Knowing your EPF balance can be a good indicator of your retirement savings. Know Your EPF Balance – Check EPF Balance Online
Employee's Provident Fund, in the year 2013, launched an online inquiry platform for fund balance. The idea behind the move was to give employees quick access to information related to their PF account balance. EPF is an important part of the remuneration structure of any salaried employee. Checking on EPF can give you valuable insights into the status of your PF account especially for instances when you wish to partially withdraw your PF amount or in case you wish to avail a loan against your EPF.
Know Your EPF Balance  Check EPF Balance Online by Following Ways
Before this service was made available to the users, finding out EPF balance was not an easy task and required forms to be filled and offices to be visited for knowing this simple information. With the launch of the online EPF balance check facility, individuals can now know their PF balance in the matter of a few minutes. Know Your EPF Balance – Check EPF Balance Online