Independence day Speech 2023:- Here we have provided various speeches on Independence day of India for school-going kids and students.
1. Independence Day Speech 2023
Very good morning to the honorable Chief Guest of the day, respected teachers, parents, and my all dear friends. I wish you all a very Happy Independence Day.




We all know the reason to get together here in such a big crowd and all are excited about celebrating this great day in such an excellent manner. We are gathered here to celebrate the 76th independence day of our nation.
First of all, we hoist our honorable national flag and then give a salute to all the heroic deeds of the freedom fighters. I am feeling so proud to be an Indian citizen. I have such a great chance to give a speech on Independence Day in front of you all.
We would like to say thanks to my respected class teacher that she has given me an opportunity to share my views with you all about the freedom of India.
We celebrate Independence day every year on the 15th of August because India got freedom on the night of 14th of August in 1947.
Getting freedom from the Britishers was really an impossible task our forefathers did with their continuous efforts. We can never forget their works and always remember them through history.
Today is the very significant day for all Indians which we celebrate remembering sacrifices of great Indian leaders who had given their lives for the freedom and prosperity of the country.
We should keep faith in the secularism and never be separate to maintain unity so that no one can break and rule again.
I should take an oath today of being highly responsible and well-educated citizens of the tomorrow India.
We should sincerely perform our duty and do work hard to get the goal and successfully lead this democratic nation.
Jai Hind, Jai Bharat.
---
2. Independence Day Speech For Students 
Respected Principal, Teachers, and all my dear friends
I take it as an honour to stand in front of all of you and I would like to say a few words on Independence Day. We are celebrating our 76th days of freedom.
It was today on 15 August when India woke up with freedom in 1947, No one can never forget when Our first prime minister Mr. Jawaharlal Nehru hoisted the national flag at the red fort in Delhi.
Since the time we have been celebrating our freedom with joy, pride, and honor. India has been celebrating Independence Day in every schools and college since 1947.
Each year every school, colleges, offices are decorated by independence lover with keeping the theme of Independence Day.



Thanks to our principal for hoisting national flag also thanks for speak about our great Indian freedom fighters.
No one can never forget how much we lost and how much blood we shed. We had lost a lot and we can't forget our forefather hard struggle, painful life, and lost lives for independence day.
Now the remember our ancestor and also remember their hard struggle and painful journey. we look at celebrating today as well every year.
we will be celebrating independence day with sing patriotic songs to give respect to our great Indian fighters. I salute all the fighters as well our national heroes who give us beautiful Indian, independent India where we can live without any fear and pain.
Hope all kids will make our India brights as our ancestor had done.
Jai Hind, Jai Bharat.
---
SLOGANS ON INDEPENDENCE DAY 
1. "I love my freedom, I respect my freedom."
2. "I salute the real Heroes who gave me freedom."




3. "Pay tribute to the real Heroes who sacrificed their life for our freedom."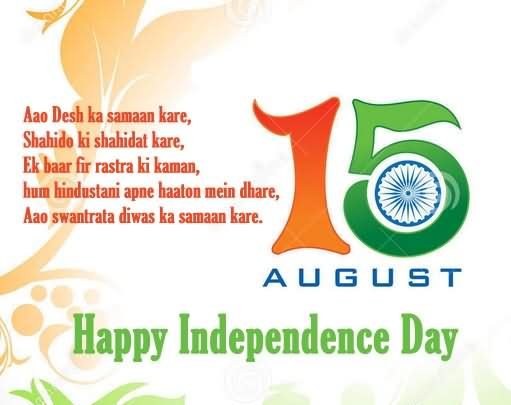 4. "We live in an independent country because of our real Heroes."
5. "India is great; India is grand where we celebrate Independence Day."
6. "Today is Independence Day; say it loud, it's my country's proud."
7. "We can unfurl the Flag as we live in an independent country."
8. "We are lucky to live with freedom in 21st century because of our forefathers."
9. "See, how beautifully our Flag is waving in the air!"
10. "We can see the sunrise and we can hear the river water sound peacefully; as we have freedom."
11. "The waving Flag in the wind is the symbol of our freedom."
12. "We celebrate our freedom on Independence Day."
Independence Day Slogans in English
13. "Independence Day celebration is the symbol of our freedom."
14. "The freedom we live, has taken sacrifice of many lives."
15. "I am proud to be an Indian and respect the culture of my country."
16. "Our Flag looks so grand on this independent land."
17. "Our Flag waves so high which tells the history of how many people died."
18. "Independence Day tells the history of freedom of India."
19. "Unite to stand in all good or bad condition of this land."
20. "Whether it is sunny or rainy, let's celebrate Independence Day of my country."
21. "An independent country is a country full of rights for its citizens."




22. "I feel proud for my country and happy to live in this gentry."
23. "Independence Day is a special day for all Indians."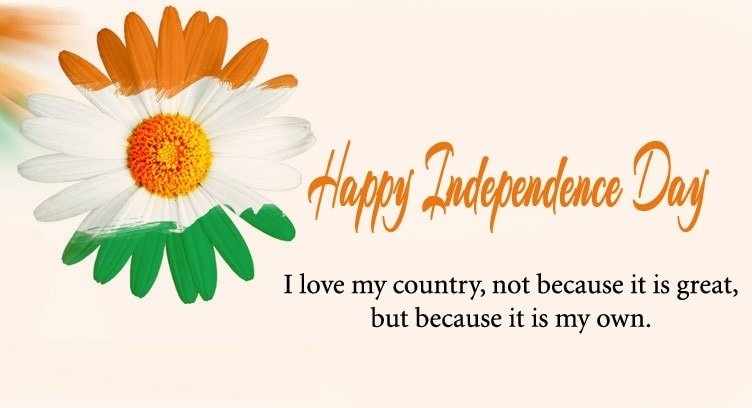 24. "I am very grateful to them who fought for our freedom."
25. "Today we are breathing freely just because we live in an independent country."
26. "Unite and live together to maintain freedom in the future."
27. "Freedom is the oxygen for any country and heart beat for its citizens."
28. "Without freedom, life has no meaning."