Popularly known as Kisan Diwas, National Farmers' Day is a national occasion observed on 23rd December every year. National Farmer's Day is celebrated in the honor of the former Prime Minister of India Chaudhary Charan Singh. National Farmers' Day is celebrated across the nation with great enthusiasm and interest. On this day, several debates, events, seminars, functions, and competitions around agriculture are organized to celebrate the event.




Here are 10 quotes that show that farmers are backbone of our country and without them we are nothing.
1. "If the farmer is rich, then so is the nation."
2. "To a farmer dirt is not a waste, it is wealth."
3. "A farmer is a magician who produces money from the mud."
4. "The ultimate goal of farming is not the growing of crops, but the cultivation and perfection of human beings."
5. "The farmer is the only man in our economy who buys everything at retail, sells everything at wholesale, and pays the freight both ways."




6. "When tillage begins, other arts follow. The farmers, therefore, are the founders of human civilization."
7. "Farming looks mighty easy when your plow is a pencil and you're a thousand miles from the corn field."
8. "Agriculture not only gives riches to a nation, but the only riches she can call her own."
9. "Agriculture is the most healthful, most useful, and most noble employment of man."
10. "I believe in the future of agriculture, with a faith born not of words but of deeds."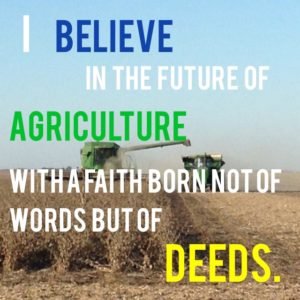 The life of a farmer is very tough as he works very hard day and night in all seasons for us.
SolutionWeb sincerely thanks to farmers all around the globe who are supporting everyone to live a good and healthy life.