Credit Transaction Trade Cycle:- Most inter-organizational trade transactions take place as a part of an established, ongoing trade relationship. The trade cycle for inter-organizational transactions is generally a credit trade cycle. The stages in the credit trade cycle are:
Before trading starts, the two organizations need to make contact (search) and agree on trading terms (negotiate). The customer organization may go out to tender or simply contact a firm it knows.
The supplying firm may want to run credit checks on the customer. Both organizations will need to agree on the price of goods, conditions of delivery and terms of payment.
Execution consists of requesting the goods (order) and then collecting or receiving them (delivery). For most suppliers, firms will have formal purchasing procedures-order originate from a purchasing department.
The delivery of the goods is also formalized- goods come with a delivery note that is cross-checked manually or electronic with the original purchase order to complete the stage.
The supplier of the goods has to be paid with an inter-organizational transaction that usually takes place after delivery. The supplier requests payment (invoice) and the customer settle the account by making the payment.
In any transaction, there can be problems, damaged or faulty goods, and these issues are sorted out after the execution phase. For items such as machinery, there can be an ongoing process of warranty or maintenance (after sales).
The stages of this trade cycle are shown below in the diagram:-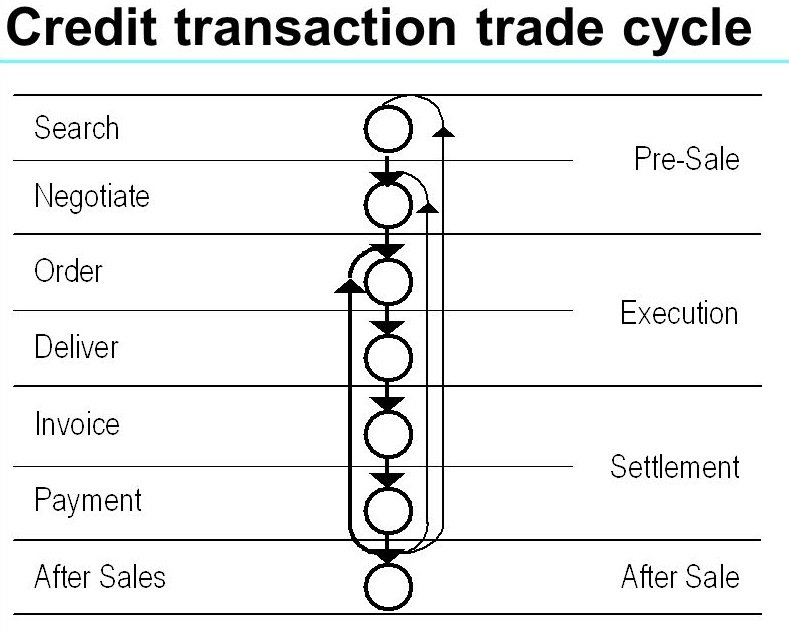 Many inter-organizational transactions will be repeated on a regular basis. For example, the produce purchases of the retailer and the component orders of a vehicle assembler- this is shown by the loop of the execution and settlement stages.
Additionally, customers and suppliers will re-visit price and other conditions of the contract on a periodic basis or the customer will switch to an alternative supplier, shown as a loop back to the negotiate and search phases respectively.
Each stage of the inter-organizational trade cycle is documented and both the customer and supplier have systems to trace the progress of the transaction. The customer will check for delivery of the goods and will not want to pay before the delivery is recorded in their system.
The supplier integrates the order entry system with a stock control or production control and certainly needs to check payment against the invoices that are issued.
The exchange of documents  for the trade cycle of a simple transaction is shown below: